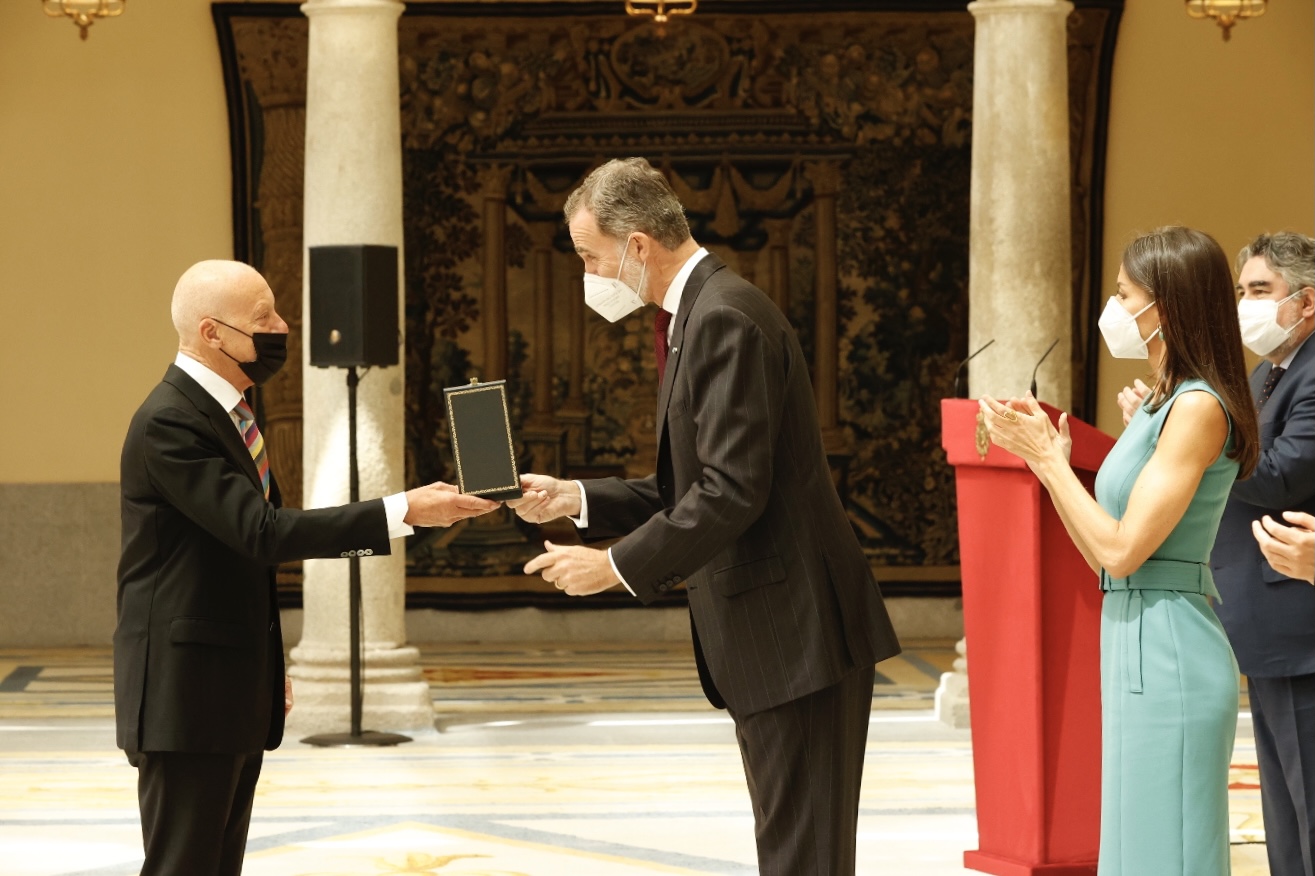 The Norman Foster Foundation receives the 2018 Gold Medal for Merit in the Fine Arts
June 24, 2021
Lord Foster, on behalf of the Norman Foster Foundation, received the 2018 Gold Medal for the Merit in the Fine Arts. Their Majesties the King and Queen of Spain presided the award ceremony of the Gold Medals for Merit in the Fine Arts 2018 and 2019, which recognise individuals and entities that have distinguished themselves in the field of artistic creation, rendering outstanding services or notably promoting the teaching, development and dissemination of art or the conservation of the national artistic heritage.
The Gold Medal for Merit in the Fine Arts is an award granted by the Spanish Ministry of Culture and Sports to individuals and institutions from the world of culture. Previous recipients include Juan Miró, Salvador Dalí, Plácido Domingo, Luis Buñuel, Cristina Iglesias and the Guggenheim Museum of Bilbao.
Lord Foster, President of the Norman Foster Foundation, speaking on behalf of its Trustees, Honorary Trustees, the Advisory Board and all members of the team, would like to express his gratitude for this prestigious award. He would also like to thank the individuals, institutions and entities for their generous support and encouragement of the Foundation, its missions, archive, educational programmes and projects.
Gold Medals of Merit in the Fine Arts 2018:
• Rubén Blades Bellido de Luna, singer, composer and actor.
• José Antonio Carmona Carmona (Pepe Habichuela), flamenco guitarist.
• Manuela Carrasco Salazar, flamenco dancer.
• Ezio Frigerio, set designer and Franca Squarciapino, costume designer (ex aequo medal).
• Félix Ibarrondo Ugarte, composer.
• Ángel León, Chef.
• Francisco Martín (Paco Martín), director. Posthumously.
• Jaume Mateu Bullich (Tortell Poltrona), circus artist.
• Fátima Miranda Regojo, singer.
• Lluís Pasqual i Sánchez, theatre director.
• Araceli Pereda, art historian.
• Carlos Pérez Siquier, photographer.
• Rosángeles Valls Ballester, choreographer, director and dancer.
• Agrupación de Peñas del Carnaval de Cádiz.
• Vostell Museum.
• Norman Foster Foundation.
The Norman Foster Foundation promotes interdisciplinary thinking and research to help new generations anticipate the future. The first mission of the Norman Foster Foundation is to promote the importance of architecture, infrastructure and urbanism for the betterment of society. To this end, the second mission is to encourage new thinking and research across traditional boundaries to help younger generations anticipate the challenges of future change.
Photograph: © Casa de S.M. el Rey