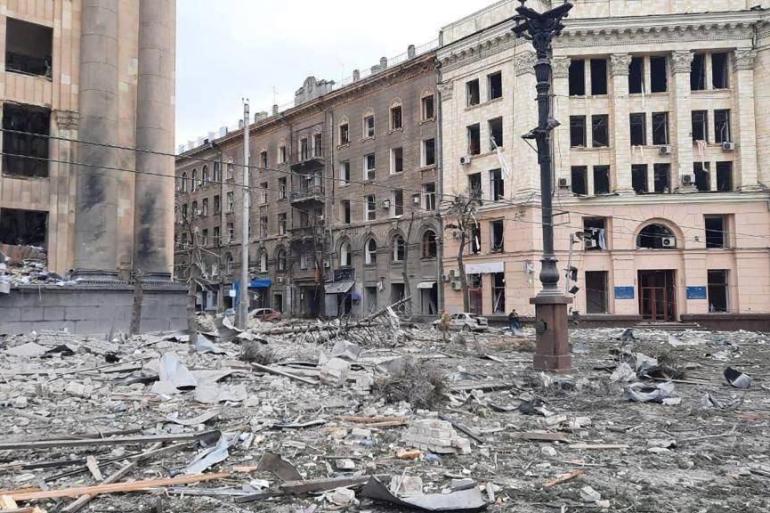 Meeting between Mayor Ihor Terekhov and Lord Foster
April 18, 2022
Following discussions which began at the 2nd UN Forum of Mayors in Geneva, Mayor Ihor Terekhov worked with the UNECE Secretariat in Geneva to convene a meeting with Lord Foster which took place at 16:00 EEST on 18th April 2022, to discuss the future rebuilding of the City of Kharkiv.
Mayor Terekhov was joined by Igor Abramovych, People's Deputy of Ukraine of the 9th Convocation, and Deputy Chairman of the Committee on Finance, Taxation and Customs Policy; and by Olga Demyanenko, Director of the Department for Relations with International Agencies and Financial Institutions.
Lord Foster had invited Professor Ian Goldin of Oxford University and Professor Ed Glaeser of Harvard University; along with the Co-Heads of the Design, Architecture and Technology Unit of the Norman Foster Foundation, Diego Lopez and Alberto Cendoya.
The Mayor set out his vision for the rehabilitation of the city, its buildings and its infrastructure, much of which – including housing, hospitals, schools, cultural institutions and historic buildings – had been completely destroyed. His vision seeks to embrace the city's recent heritage of investment in technology and healthcare through the creation of, what he described as, new high-tech architecture, as well as the repair and preservation of the buildings and public spaces that form the fabric of the city's rich cultural history.
In advance of the meeting, Lord Foster had prepared the draft of a manifesto for the reconstruction of Kharkiv (please see below) which he shared with the meeting. He reiterated his commitment to bring together, through The Norman Foster Foundation, a team of world leading experts that could begin the process immediately. The first step in this would be a masterplan which would capture the Mayor's vision and would provide the framework for the creation of Kharkiv as a city of the future. This masterplan would lead the city scale project which would, through the Foundation, engage the skills of individuals and companies, both Ukrainian and from around the world, to ensure its successful delivery.
I undertake to assemble the best minds with the best planning, architectural, design, and engineering skills in the world to bear on the rebirth of the city of Kharkiv. In the spirit of combining a planetary awareness with local action, I would seek to bring together the top Ukrainian talents with worldwide expertise and advice.
The first step would be a city masterplan linked to the region, with the ambition to combine the most loved and revered heritage from the past with the most desirable and greenest elements of infrastructure and buildings – in other words to deliver the city of the future now and to plan for its life decades ahead.
At the height of the pandemic, London updated a masterplan, the roots of which was a plan commissioned in the darkest days of World War II. A masterplan is an act of confidence in the future for generations still to come.
Lord Foster of Thames Bank OM
President
Norman Foster Foundation
18th April 2022